Every year in the summer holidays, children wants to visit some new and exciting places. They plan their summer vacations in a way that their dreams are about to get fulfilled. Not only children, adults also get to enjoy with their children.
Children loves to visit those places which could thrill & excite them.
Some people are able to get away from their respective cities, but some stays in their own cities and enjoy. One of the most beautiful place in India is Lucknow, the capital city of Uttar Pradesh.
Right from the variety of foods to the forts, from variety in clothes to what not, you will find everything in Lucknow. And one of the best places to visit in Lucknow is the Anandi water park. It is a perfect getaway place to be at as it provides you with great amount of fun. Started in 2002, April and it's unstoppable since then.
Anandi water park is a resort-cum-club which is spread over 15 acres of beautiful surroundings.
With almost 32 rides, this water park is North India's biggest water park promising of providing people with fun and ecstasy.
We are here, to provide you with all the possible information available of that place.
Director: Mr. Amit Talvar
Address: Canal Road, beside Indra Canal, Faizabad Road, Lucknow, UP, India.
Contact number: 1800-3003-4200 (toll free number)
Water park timings:
| | |
| --- | --- |
| Day | Timings |
| Monday | 10:00 – 16:00 |
| Tuesday | 10:00 – 16:00 |
| Wednesday | 10:00 – 16:00 |
| Thursday | 10:00 – 16:00 |
| Friday | 10:00 – 16:00 |
| Saturday | 10:00 – 16:00 |
| Sunday | 10:00-16:00 pm |
 Water Park Entry Tickets:
| | | |
| --- | --- | --- |
| Ticket type | Monday to Friday | Saturday and Sunday + public holidays |
| Adults | ₹ 700 | ₹800 |
| Children | ₹600 | ₹600 |
Rides: Umbrella shower, wave pool, lazy river, black hole, flower shower, cyclone, dry landing, trail, backless, water fall, river ride, kids planet, wet disco, floaters, multi lane among others.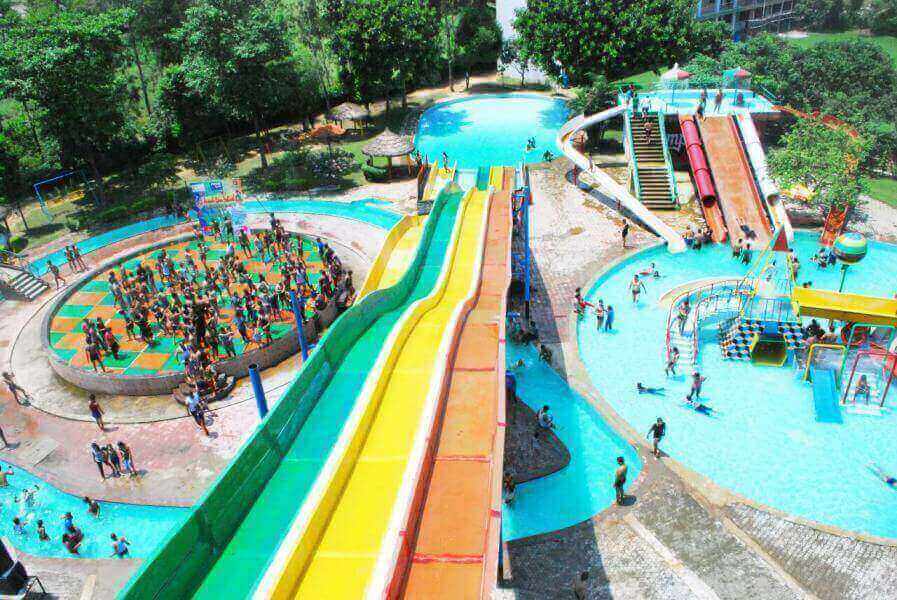 Vision: They have a vision to provide its customer with ultimate fun, satisfaction, ecstasy and enjoyment with the best value for their clients' money's worth.
Mission: They believe that people visit any place to relax and enjoy and that's what Anand water park believes in. They want to provide people with best aquatic experience with highest quality standards of customer service so that the water park which is right now, North India's biggest water park, could get global recognition.
There is no doubt that water parks are fun but they are seen as dangerous sometimes because of the incidents that happen. Being a water park, it is important to take care of your belongings and children. And Anandi water park understands all this. Number of guards are there surrounding the whole water park. And lifeguards near swimming pools and rides to ensure their customers' safety.
In fact, there are separate locker rooms for men and women so that no person could feel uncomfortable. Along this, you can find all kinds of costumes for people belonging to any group age.
Anandi water park is not like any other water park in India but it provides people with comfort and privacy. A resort-cum-club area within water park is a like a dream come true.
After enjoying in the water park for the whole day, you can come back and rest in resorts. They try their best to provide their customers with peace and comfort.
Not only this, because of the serenity, you can conduct business conferences here or even any party like birthday, bachelorette, or any other you want. Just book the place and enjoy yourselves.
The one thing that attracts people the most is the fact that the water park offer various packages for school, picnic, birthday party, and group functions.
Also, there are various specialised packages like special family package, special customised packages, etc which you can check on the water park's website.
We hope that after reading our article about Anandi Water Park, you would visit the place in person. We assure you with our own experience that you would not regret going to that place. Its worth your time and money.