There is no denying that any water park anywhere in the country or even in the world is fun. When we visit a water park it seems that we have become a child again. The most interesting thing which I find whenever I visit to a kanpur blue world is that I feel free. It seems like we are free from all work clothes, our tensions and everything. We can scream, laugh, and enjoy at the same time.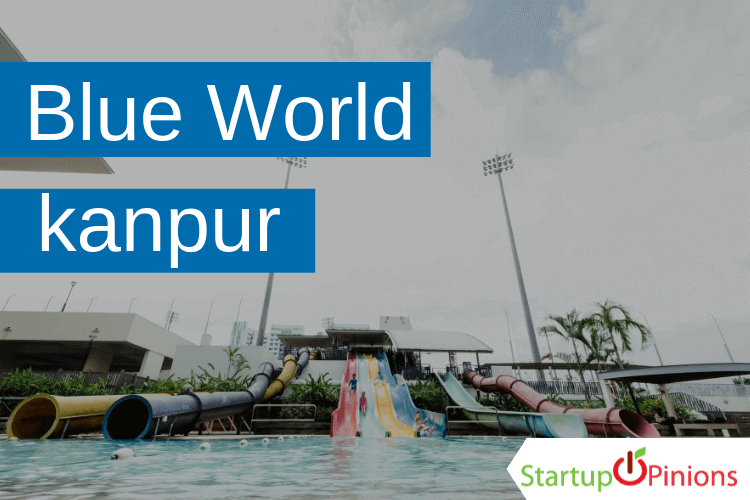 kanpur Water park is one such place where we feel happy to be drenched from head to toe. Because you see, whenever it rains we open an umbrella, when we see a Puddle, we turn around it. But when we are at a water park, we feel live again.
The most amazing thing about a water park is that you can have absolute undisturbed fun with your friends and family. Since we remain in the water we can't take our phones or laptops, it means we can't have any connection with the outside world.
The way water parks are designed and look seems like we have entered into some another horizon. Everything seems so colourful and cheerful that no matter what we think or going through, we forget everything about that and just enjoy.
So here I am, to talk about one great water park that is located at Kanpur, at Uttar Pradesh, in India.
Blue world theme water park is an amazing water park where people from all around the city come and enjoy to the fullest. Kanpur is the second largest city of Uttar Pradesh which evokes history and religion. Kanpur is situated on the banks of Ganga. One of the iconic landmarks of the city is none another than blue world theme park kanpur.
Water parks are very famous in the summer vacation where people go to seek thrill and fun. For me, water parks are an escape route to enjoyment. What about you?? Think.
To escape the scorching heat of the cities, blue world theme park in Kanpur provides you with plenty of rides that excites visitors of all age groups.
In fact, the Blue World water park has a lot to offer you. Let's scroll and see-
Address: Bithoor Road, Mandhana, Kanpur, Uttar Pradesh- 209217, India
Contact number: 07080110458, 05122780055
| | |
| --- | --- |
| Water park timings | 10:30 am to 8:00 am |
| Amusement park timings | 10:30 am to 6:30 pm |
| Water world timings | 10:30 am to 5:30 pm |
| Music fountain and laser show | After sunset |
| Boating, chairlift, skydive will | Closed at 6:30 pm everyday |
Blue world Kanpur, ticket prices:
Monday to Friday
| | | |
| --- | --- | --- |
| Packages | Adults | Children |
| Full park | Rs 650 | Rs 350 |
| Fairy land water world | Rs 500 | Rs 250 |
| Amusement park | Rs 500 | Rs 250 |
Note: children below 90cm of height's blue world kanpur ticket price is free
Saturday and Sunday
| | | |
| --- | --- | --- |
| Packages | Adults | Children |
| Full park | Rs 750 | Rs 400 |
| Fairy land water world | Rs 600 | Rs 300 |
| Amusement park | Rs 600 | Rs 300 |
Note: children below 90cm of height's blue world kanpur entry fees is free.
Blue world in Kanpur Costume and locker fee:
| | | | |
| --- | --- | --- | --- |
| | Rent | Refundable security | Total |
| Costume | Rs 70 | Rs 130 | Rs 200 |
| Locker | Rs 50 | Rs 100 | Rs 150 |
Note: You can buy fresh towels at blue world water park kanpur @ Rs 100.
It is the topmost entertainment choice of the visitors because the water Park is bad with adventurous rides and shows including revolving Tower, jumping frog right and flying carousel.
People loves when their adrenaline jumps and Blue World Park offers that to a great extent.
Astonishing photo fountain is a private musical Fountain in India which is found in this water park. The one thing that highlights the beauty of the water park is the laser show on water screen.
Blue world theme park draws big number of visitors who loves to enjoy the family friendly ambience. Among everything, other attractions include jet planes, Columbus, ferris wheel and train rides.
The blue world theme park is spread across an area of 25 acres and is country's biggest private musical fountain and laser show. The waterpark features around 10 huge slides and 25 stimulating rides.
If you live in Kanpur or are planning to visit, do come here and see everything written here.
Family Rides: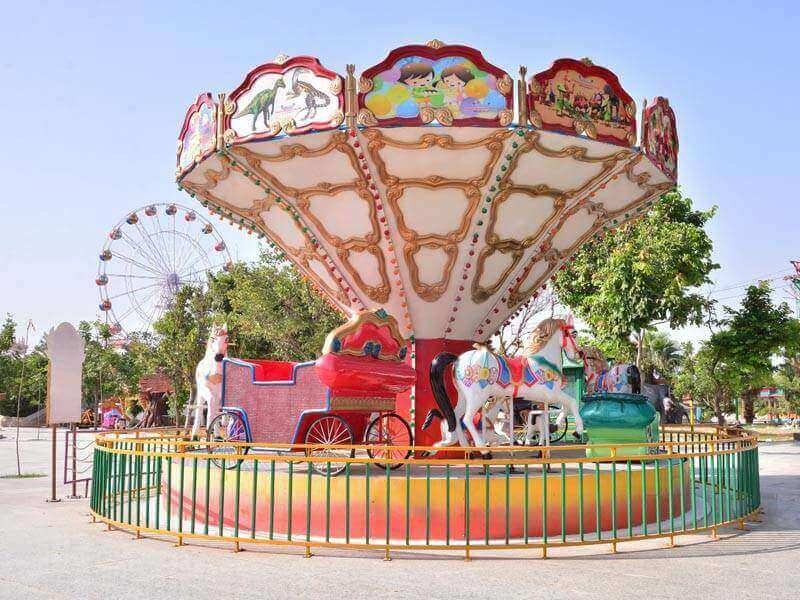 If there is no Columbus right then what kind of a amusement park it is. Right? Well, the Blue World understands this and has an amazing columbus ride which attract tourists.
For little kids they have swing chairs which the children enjoy a lot. There, they have to sit on the vibrant and colourful chairs and enjoy the rides.
There is a ride known as Polipo Octopus which is enjoyed by each age group people. And there is a ride called as 'Amphido Eye' which allows the visitors to take a view of entire Blue World Theme Park.
The rides which have twist and turns attract those who loves to have a adrenaline jump, known as 'Blue Typhoon'.
With fun, the water park has made sure that children and people of all age group could come and learn something. And to fulfil this, they have a ride known as 'Suhana Safar' where people get to know about the culture and heritage the country and are made to watch important events like Durga Pooja and Independence Movement.
They have a voyage to the planetarium at the journey to space section where the visitors learn about evolution of earth, mysteries of cosmos and planets.
They even have impressive 7D show for visitors to see. It gives a real experience to the visitors. They even have striking car ride which most of the population enjoys.
Thrill Rides: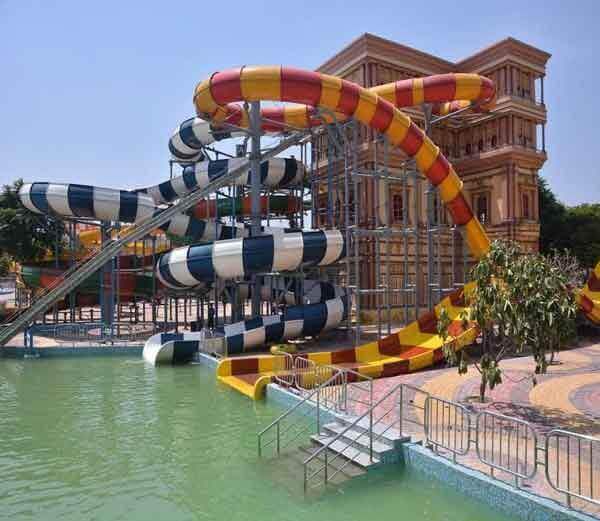 If an amusement park does not contain thrill rides then, people would feel empty. For this purpose, the Blue Water Park holds an Chair Lift Ride where people travel in the chair above 40-60 feet above the ground which later traverses. The ride can carry 2 people at time.
Kids zone: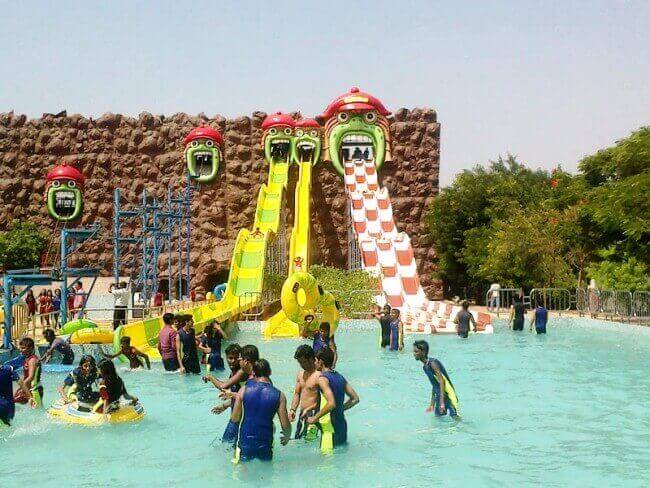 Amusement and water Park are mostly enjoyed by kids so the blue world theme park make sure that they have special zone area for the kids. To make them happy they introduced flying chopper, jingle bells and umbrella ride.
These rights are where they can splash around, board on the carousel, and have a ride on the toy train. In fact children of age group 3 to 8 years are given colourful dogs which take them on gentle ride.
The Blue World Water Park makes sure that each and every person who enters in their area, would go out after enjoying everything at their best.
In fact, children have their little version of pool, fun slights at the tiny tots zone.
Fairy Land Water World: The blue world water park is not less then a fairy land waterpark. The family find this place a prime attraction where they could hop aboard the family raft ride that winds their way through dark tunnels and steep drops.
Around 3-4 people can sit at one time in Family Raft Ride. Twists and turns work as cherry on the top of the cake in this ride. People who love thrill and adventure, comes out screaming.
It offers splash out where people take rides which finally end in the splash of cool water. The tallest tunnel of the park is 'typhoon tunnel' which never fails to amaze people.
Themes: The water park offers a lot of themes to the visitors. When you rome around usually, you will feel that you are roaming around in the streets of London, Uk.
Walking the Fairy Land Children will give you the ambience of fairies all around.
In fact, they have Chinese architecture which helps the visitors to know about chinese culture.
The park also has Egyptian theme which attracts the visitors a lot.
Also, the have a jungle theme which gives a wildlife experience to the visitors.
Additions:
They have voyage to aquatic world.
Game zone for children
Bharat Darshan
Collection of games in sports area.
A place called 'Dinomica' where they are being introduced to the extinct Dinosaurs.
Restaurants: The Blue World Water Park has mouthwatering restaurants in the area.
Ship Restaurant is the favorite place for the people who visits the theme park. There, people get to relax and eat by the poolside.
They even have delicious cuisines which include both Indian street food and chinese cuisine.
Facilities:
They have bouncers all around the rides for safety check.
The theme park is under complete CCTV surveillance and lifeguards around and near the water rides.
They even have proper medical facilities for the visitors.
In case of emergency, they have provided people with ambulance facility.
Not only this, the place is equipped with fire extinguishers.
People are required to go through security check for their own good sake.
They are informed to wear decent attire.
The visitors are asked to wear costumes only in the water park.
The theme park has even insured that people could have meetings, birthdays or anniversary parties over there without any issue.
With so many facilities to enjoy with, who would not want to visit this place? So hurry up, make plans and do visit this in summers.